Jackson has been involved in the drying of wood shavings since 1979. In that time, we have seen a number of different methods employed, with varying degrees of success. Our experience has shown that the most cost-effective and efficient method for drying wood shavings is the use of triple-pass drum dryers (click for a brochure), such as those pioneered in the 1920s by the Arnold Dryer Company of Milwaukee (later a division of the Heil Co.). New drum dryers are now built by Baker-Rullman Mfg. and others, and reconditioned used units are also a popular and economical option when available.
The Ideal Method
This simple, direct, and highly effective method of drying has been successfully applied in the dehydration of a wide range of materials; and has proved to be the ideal method for drying shavings. The drying drum features an expanding cross-sectional area and a compound showering flight pattern which guarantees maximum exposure of all particles to the drying medium. The velocity and temperature of the air stream are different in each of the three passes to suit the changing rates of evaporation as the moisture content of the shavings decreases.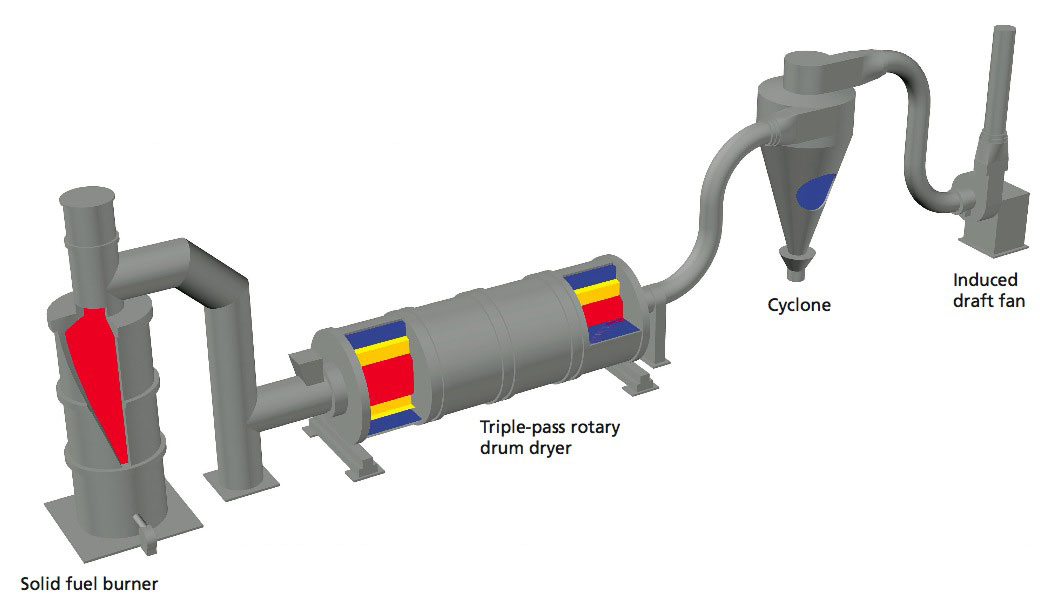 Image courtesy of Baker-Rullman Mfg.
How It Works
Material moves through the triple-pass drum in an air stream created by the dryer fan. The three cylinders are concentric and are mechanically interlocked to rotate together.


The shavings are repeatedly carried to the top of each cylinder by internal and external flights so they are constantly and intimately showered through the hot gas. Moisture is given off continually as they move along the hot air stream.


Heavier, wetter particles move slower than fine particles -- forward through the center cylinder (red), back through the intermediate cylinder (yellow-orange) and again forward through the outer cylinder (blue) to the fan at the discharge end. The warm damp exhaust gases are separated from the dried product in the primary cyclone collector, and fall out the bottom onto a shaker screen to remove fines.


Precise control of exhaust air temperature assures accurate moisture control, without product degradation. Controls react instantaneously to any temperature change, and immediately adjust the BTU input to assure uniform drying and accurate control of the moisture content of the finished product.


If the product is fragile, a "negative air" system (as shown above) may be used, where an airlock is installed at the bottom of the primary cyclone collector and the induced draft fan is positioned downstream to avoid product breakup caused by passing through the fan. However, we do not recommend this arrangement with certain species of wood, since we have found that resins present in the warm damp exhaust can quickly accumulate on the sidewalls of the pipe and plug it, making for a difficult cleaning job.
Choices and Costs of Fuels
Traditionally, these drum dryer systems have been fired with either fuel oil or natural gas burners. This is still necessary when the downstream process(es) require perfectly clean conditions, such as products for human consumption.
However, whenever possible, the most economical choice is a biomass solid fuel Webb Burner®. These burners offer very significant advantages:
They are substantially more economical to operate when fuel costs are taken into account. Fuel savings of 80% to 99.5% are not uncommon.


They are very environmentally friendly; generating very low amounts of polluting emissions, and producing no net gain in the "greenhouse" gases thought to be associated with global warming.


They help alleviate needless depletion of limited fossil fuel reserves, and reduce dependence on foreign petroleum.
White Paper
Webb, W. B., PE, "Pollution Emissions from Shavings Drying Operations" (HTML), September, 2001
Our Expertise
Jackson has been a leader in the wood shaving industry for over 40 years. In that time, we have manufactured over 200 wood shaving mills, and have worked with many customers over the years to set up entire shaving plants. We bring this unparalleled depth of experience to every customer -- whether building one of our smallest shaving mills for a one-man owner/operator just getting started, or designing, installing, and starting up a complete plant layout "from scratch."
We can:
Provide all the necessary equipment, new or used/reconditioned;


Work on-site with your construction, electrical, and other contractors as necessary to erect and install the equipment


Provide startup assistance and training of your employees.
Afterward, we follow up to make sure everything is right; and provide on-going support for replacement parts, and service work if necessary. We would be happy to discuss your project -- simply give us a call at +1 (715) 926-3816, or see the "Contact Us" page.
Drum Dryer Manufacturers
(Click on logos to view websites.)
Spark Detection Manufacturers
(Click on logos to view websites.)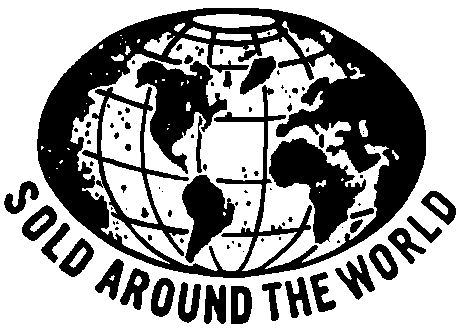 The Jackson logo and name, "Lumber Harvester", "Big Jack", "Premier Scragg Mill", and "Jackson Wood Shaving Mill" are registered trademarks of Jackson Lumber Harvester Co., Inc.
The Webb Burner logo and name are also registered trademarks of Jackson Lumber Harvester Co., Inc.
All other trademarks are property of their respective holders, and are hereby acknowledged as such.